Club members, log in to view the full report.
The entire club team joins me in wishing you all the best for the year 2022 ! In spite of the current difficult context with the world pandemic, I hope that you have been able to realize your projects. For my part, I have devoted myself to boosting my various rental investments. I did not take the time to buy new garage lots because I managed the construction of my new main residence. I will try to free up some time to invest even more for our club in 2022, on the real estate side, I am still looking for a warehouse to make another winterization center for vehicles and storage, since this business model is working well. Enough about me, we will now see the balance sheet of the club, since this is the purpose of this article.
The year 2021 : a nightmare
This year has not spared our club, between the false accounts, the letters of lawyers, the explosion of the number of members… It was a real hassle to be a team member or club leader in 2021! Several team members even took time for themselves, to step back. Disgusted by the behavior of some people and the legal harassment of some companies against us. I myself thought of throwing in the towel because finally our club is based on a simple principle which is the mutual aid and the sharing of information. But when you spend your time dealing with problems it's not really fun anymore… As all the members of the team are employees or business owners and our rental income is good ; why waste our time with this community ?
I know that our club is becoming more and more disruptive, as we are not afraid to say things and we don't give in to pressure. The size of our community means we have a lot of information about what's going on in the real estate niche. Despite our detractors, the team and I are pumped up, thanks to all the positive feedback we receive every week for the work we do on a volunteer basis on the platform. I'm going to thank the 15 volunteers of our club, who dedicate a few minutes here and there to help me make this club bigger. I especially want to thank you, dear reader, for your loyalty, because finally without you there would be no community.
The community is growing too fast
The problem when a group becomes very big is that it is necessary to devote a lot of time to help, advise but also moderate the published contents. I can't thank the volunteer team enough for the time they dedicate to our club. I must admit that our team of 15 volunteers has been literally overwhelmed by the explosion of memberships. As a direct consequence, we have had to work harder on the training, support, forum and rental management modules. A few years ago, I had the time to call each new member right after they signed up. Now it is often the new members who call me to exchange. We are going to close the membership to limit the number of members but above all to take better care of you. We will talk a little later about the new arrangements to reduce our response times.
We have removed several fake accounts that were used to promote certain companies but also to take advantage of the community to do business prospecting. And let's not forget the spy accounts that were used to monitor groups that wanted to file complaints about scams. I know that not everyone was happy with the member verification campaign and I apologize for using this method. Unfortunately, we had no other choice but to finish detecting the fake accounts that were operating within our club and clean up our act once and for all.
Our law firm : a third office
My first office is my professional activity, which is the source of my main income. My second office is the CIPG club, where I spend between 30 and 45 minutes every evening to make things happen and make the community more enjoyable and efficient for our members. This year, I really felt like our law firm was my third office. I can't believe it, but I didn't expect to have to deal with all these issues with companies in the industry. Our club is a nuisance, now that's for sure, I'll just quote the boss of one of these companies who acknowledged that our community works well, given the level of information we have.
Club members, log in to view the full report.
A lot of content but a lack of time
Another problem that has arisen this year is an astronomical amount of content that we have to publish but that does not get out due to lack of time. Beyond our exchange space, we receive a lot of content to share with other members. Unfortunately, we have to go through them again, reformat them and sometimes even have them signed off by a professional (accountant, tax lawyer, etc…) that's what takes time. I have to solve this problem in 2022 to offer you the content you expect.
How the investor club will evolve in 2022
The club's course of action for 2022 remains the same as in previous years. To help members invest in the real estate niche of parking lots, garages, storage rooms, cellars and warehouses on a voluntary basis. But also to simplify the rental management of members who are already owners while sharing advice to boost their rental yields. We will limit the number of members so that we do not find ourselves in the same situation as this year.
▶ Did you know that ?

The investor club works on a win/win model. Each member receives help and shares his or her experience with the club, and all the contributions finance the evolution of our platform.
Everything increases in 2022 : false !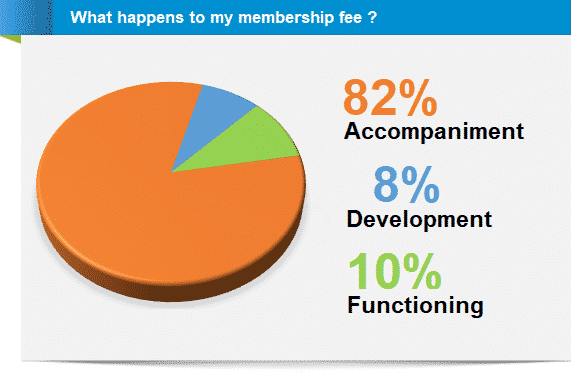 Like all of you, I note with regret that everything is increasing in 2022. The explosion of the cost of raw materials, the price of real estate which reaches records in certain cities, without forgetting the products of first necessities like foodstuffs… You can tell your friends and family that NO, everything is not increasing. The proof is the CIPG club fee, which remains the same as last year and will not increase this year.
This is good news, isn't it !
The 2022 budget remains the same as the previous year. The portion of your dues dedicated to consulting remains at 82%. The club development portion through advertising remains at 8%. Platform operating costs remain at 10%.
As we will soon be closing memberships in the club, now is the time to take the plunge and join our community ! There won't be room for everyone and it will be first come first served.
Temporary closure of memberships
This is a measure I am forced to put in place due to the large waves of membership. We have to manage a large number of members and the workload means that the volunteer team is not able to process all the requests in an acceptable time frame. Sometimes it is the personalized support that is not up to your expectations. The idea is to close the memberships or perhaps to shift the access to the exchange platform from a few days to a few months in 2022 to smooth the membership and thus eliminate the peaks that we have experienced in the past.
I'm sure this will reduce our response times. It's mathematical, if we reduce the number of members, we will reduce the flooding effect of the training, coaching and rental management modules. I hope so.
The return of Platinum status 💎
We have decided to reactivate the Platinum membership 💎 to meet the expectations of many of you. Indeed, a loyal member of the CIPG club for several years should be rewarded. The idea is to offer you, in a punctual way, a new formula of membership to the club without subscription and without commitment with all the advantages of the Premium status ✨ for a duration higher than 1 year. This status is planned for a membership period of 5 years with a very advantageous rate.
I am anticipating, because I already see the applications coming in, the Platinum membership 💎 will be available in 2022. We need to adapt the exchange platform that's why I don't have a release date to give you yet. Don't worry, you will receive the information as soon as everything is ready.
International development
Two years ago, we launched the English version of the CIPG club to help even more people to better invest in the real estate niche. We are slowly making progress on the translation of the exchange platform. There is still a lot of work to do on this side and we have to adapt our contents to each country. The task will be long and difficult to reach the same quality of content as the French version.
The whole exchange platform is translated, a small part of the free articles are translated. I have prioritized the member area to bring quality to the foreign members who have joined our club. In 2022, we will have to rely on experts to master the differences in international taxation, this is something that is currently missing. Do not hesitate to share your experience if you have already invested in another country than France, your purchase will help many investors.
Publish more content
As I explained earlier, we have a lot of content to publish on the platform. The texts are piling up and we are going to put the priority on these publications. I am aware that it is the richness of the contents that founds the quality of our platform. We will try to publish in 2022 all the backlogged content, even if this task is difficult, the volunteer team and myself are determined to succeed.
Conclusion
What to remember from this crazy year ?
First of all, supervising the volunteer team was very time consuming. I would like to put the right people on the right tasks to get us further and faster, but it is not that easy. We have been overwhelmed by the number of memberships which has caused delays in processing your applications. That's why we're temporarily closing the membership to reduce the amount of work and catch up on all the backlog.
The platform is made for you, it is your private space. What should be changed or improved ? Do not hesitate to tell us your expectations and your ideas for improvement by leaving a comment on this page.
If you want to help our club, it is very simple. You can :
– Consult our contents and take action by joining our club,
– Share your experiences with the community,
– Follow and share our activity on social networks,
– Recommend the CIPG club to people wishing to create additional income.
THANK YOU AGAIN, for your numerous e-mails of encouragement and support. It is thanks to you that our community has become the reference for investors and owners of parking lots, garages, storage rooms, cellars, containers, warehouses and sheds!
What are your rental income goals for 2022 ? Will you take the plunge and join our club ?