Lessor owner
Find out more by reading some of the free content on this page. Boosting rental yields can't be improvised. If you want to go further, you can join the club to unlock more content, interact with an experienced community and benefit from personalised support. What's more, our online rental management module makes it easy for you to manage your properties.
Manage on your own and boost your rental income
Rental property can quickly become a nightmare for landlords. In some cases, the difficulty of finding a good tenant, bad payers or jealous co-owners can quickly demotivate a landlord. Fortunately, simple rental management and the law in favour of landlords are two major advantages of the property niche, which includes car parks, garages, boxes, cellars, storerooms, warehouses, sheds, containers, premises, shops, etc.
Simplicity is not for everyone. You have to do things properly, while complying with the rules and laws in force, if you want to enjoy peace of mind. Thanks to our club, you'll have all the advice and tools you need to succeed in your day-to-day rental management on your own.
Once you've saved on estate agency management fees, you need to concentrate on increasing your rental income and rental yield. Take advantage of feedback from the community and copy ideas and business models that work !
Find out more
⚠️ Beware of scams 📢
A private individual alerted us to an inconsistency between the compulsory ten-year insurance offered by certain companies converting parking spaces into closed boxes.
Find out more about our detailed investigation and legal advice on how to avoid the pitfalls of ill-intentioned sellers. If you're in any doubt, ask the community your questions. Find out more here…
Writing the right advert to get your property let or sold quickly is no easy task… Here are a few tips to help you stand out from the competition on the property market ! Read more…
Contrary to popular belief, you can't store everything you want in every garage! With the explosion in storage spaces and furniture repositories, everyone wants to rent to earn money. Read more…
The law of 30 July 2003 on the prevention of natural risks and the repair of damage. This law introduced the "État des Risques Naturels, Miniers et Technologiques" (ERNMT – Natural, Mining and Technological Risk Assessment) document, also known as the ERNT. Read more…
Lots of garages from the 60s and 70s are currently up for sale. The ageing owners prefer to sell rather than continue to use them. These old buildings have fibre cement roofs that may contain asbestos. Read more…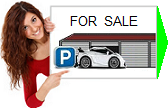 The CIPG club is a property website specialising in: car parks, garages, boxes, cellars, storerooms, warehouses, hangars, containers, shops, industrial, craft or commercial premises. Place a free ad…
New contents will be aviaible soon, sign into our newsletter to keep in touch !
Document templates
Lease for a parking lot, garage or box, subject to the provisions of the Civil Code. Validated by our legal expert, this document is composed of 8 pages including 24 articles in order to protect the lessor Read more…
Rental lease specifically dedicated for furniture storage in a garage or storeroom, subject to the provisions of the Civil Code. Read more…
Lease specifically dedicated to the storage and wintering of motor homes or caravans, subject to the provisions of Civil Code. Read more…
Strategies, business models
Profit : 💰💰⚫️⚫️⚫️ | Risk : 🔴🔴⚫️⚫️⚫️ | To invest, you need to explore all avenues. When it comes to parking, we haven't yet looked at buying a parking space under a concession. Read more…
Profit : 💰💰💰⚫️⚫️ | Risk : 🔴🔴🔴⚫️⚫️ | Dividing a parking space consists of transforming a parking space initially dedicated to one car in order to accommodate several tenants in the same parking space. Read more…
Profit : 💰💰💰💰⚫️ | Risk : 🔴🔴🔴⚫️⚫️ | Boxing a parking space consists of transforming a parking space into a closed garage. Depending on the location of your space, you will need to add partitions. Read more…
Profit : 💰💰💰💰💰 | Risk : 🔴🔴🔴🔴🔴 | Unlock other strategies by joining the CIPG club for just € 5 incl. VAT per month. Join the club…
💥 JOIN THE CLUB 💥
Unlock lots of extra content and get a head start on other investors!
With Premium membership ✨ you can boost your property portfolio with never-before-seen bonus content.
How can the CIPG club help you ?
Our club is based on a unique concept dedicated to sharing and helping each other. You can benefit from the experience and sound advice of others to improve your property portfolio.
I already own property, but I want to boost my rental income and manage it myself

ℹ You're probably looking for additional ideas to boost your rental income. All the members of the team have stumbled upon the property niche of car parks, garages, cellars, warehouses, hangars, commercial premises, etc…. There are several strategies for generating a good return on investment by generating alternative income.

➡ You'll start your adventure by listing your properties. The doper mes rendements locatifs dashboard will enable you to improve your income by earning more money to explode your profitability. We'll help you calculate your return on investment to find areas for improvement; thanks to the know-how and experience of our members.

As you can see, there's no limit to the support you'll receive, from finding a tenant to day-to-day management, and we'll adapt to your needs thanks to the community !

If you own several properties, we recommend that you choose Premium membership ✨. This package offers you comprehensive support thanks to monthly telephone follow-up with an expert who is already an owner. Bonus content completes your training and gives you the tips that the best landlords use.